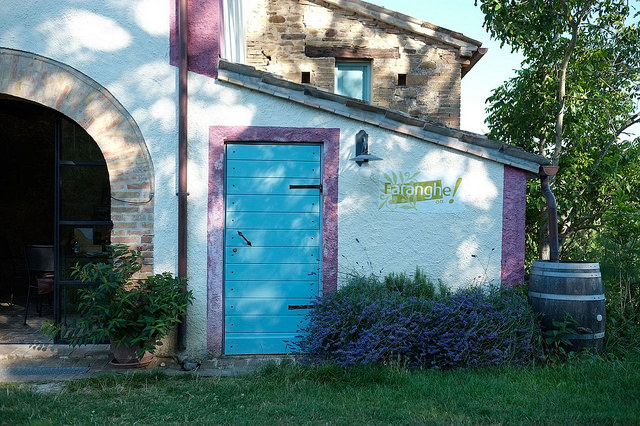 A place to feel at home
Faranghe! is a small farm campsite in the green heart of Italy. In the land of the Verdicchio di Matelica - where the winegrowers score high in the rankings - taste the delicious variations. A stone's throw from Tre Pizzi mountain, from which paragliders and hang-gliders soar. In the surrounding mountains you will find challenging tracks for mountain bikers. On your hike through the mountains, your view reaches far over vast valleys and mountain pastures. An environment in the gently sloping hills of Le Marche, at the gate of the high Apennines in the Umbria. In this wealth Francis preached poverty. In an hour you are in his hometown Assisi.
Holidays as it should be! Dear hostess and host, beautiful view, small-scale, personal, authentic!

Dagmar Betrand op Zoover
Faranghe! is ten minutes by car from Matelica and Esanatoglia, towns praised as Borghi Piu Belli. You will find everything there for everyday shopping, at the market and in the shops. The coffee bars, restaurants, small museums and churches worth seeing, the narrow streets and medieval palazzi complete the atmosphere. This region is an experience, and Faranghe! is a place to feel at home.
KAMPEERPLAATS
Prijs voor plaats, tent of caravan met auto en 2 personen. Korting voor groepen en voor langverblijvers in het laagseizoen.
CAMPING "'light:
Zonder kampeerspullen op vakantie gaan. Wij hebben je bed al opgemaakt. Je hebt een Ingericht keukentje en een buitenterra
MORE LUXURY
Comfortabel appartement voor 2 tot 5 personen met een heerlijk schaduwrijk terras
ENJOYABLE PLACES TO SWIMMING
Verkoeling zoeken in ons zwembad, een dagje zee, of naar een van de meren of rivieren in de buurt.
GOED GEMARKEERD
In de heuvels aan de voet van bergketens van de Apennijnen. Prachtige natuurgebieden, paden goed gedocumenteerd en gemarkeerd.